Timer
Pay attention!
Buing from us, you get a device with a temperature controller, which, while ensuring high comfort, does not consume a single extra kilowatt of electricity!
Description
Wholesale proposition, sales of all goods, only 100 units.
"EF16h socket timer" is a compact universal single-channel electronic microprocessor timer built into the plug housing, designed for efficient and convenient control of the operating time of an electric heater up to and including 400 W.
The electronic circuit of the timer controller is reliable, safe and environmentally friendly - the electronic key is made on a triac, without contact relays, electrolytic capacitors and other elements with a short service life, high-temperature environmental soldering without lead is used. The board has short-circuit fuses on both contacts, has protection against overvoltage up to 380 V and short-term high voltage emissions.
Timer operation algorithms are set by the microcontroller. Due to the intermediate execution of the code, effective triac control is achieved - the product does not give any electromagnetic interference to the network.
The product is connected to the electric device instead of a regular plug.
Using the product is convenient and simple. The timer controller is equipped with one multifunction button for control and one LED indicator for displaying operating modes.
The main operating modes (1, 2, 3 and 4) are switched one by one in a circle by briefly pressing the button. Additional mode (5) is activated by long pressing the button> 2s.
The timer EF16h for towel dryer has 5 modes:
Off.
Power is not supplied to the device. The indicator does not light up.
3h mode. Timer at 3 years. The appliance switches on for 3 hours, after which it switches off automatically.
The indicator flashes briefly 1 time in 2s.
6h mode. Timer at 6 years. The appliance switches on for 6 hours, after which it switches off automatically.
The indicator lights up / goes out smoothly with a period of 2s.
9h mode. Timer at 9 years. The appliance switches on for 9 hours, after which it switches off automatically.
The indicator is lit continuously.
∞ / 12h mode. No time limit / timer for 12 hours. Activated by long pressing the> 2c button. Depending on the selected option, the device works either continuously, without time restrictions, or with a timer of 12 hours. The indicator flashes evenly once per second.
WARNING! The user can select one of the two available options of additional mode 5. To change the option, press the button on> 2c, remove and immediately insert the plug into the socket. One flash of the indicator shows that the "No time limit" function is on, two flashes of the indicator show that the "12 o'clock timer" function is on.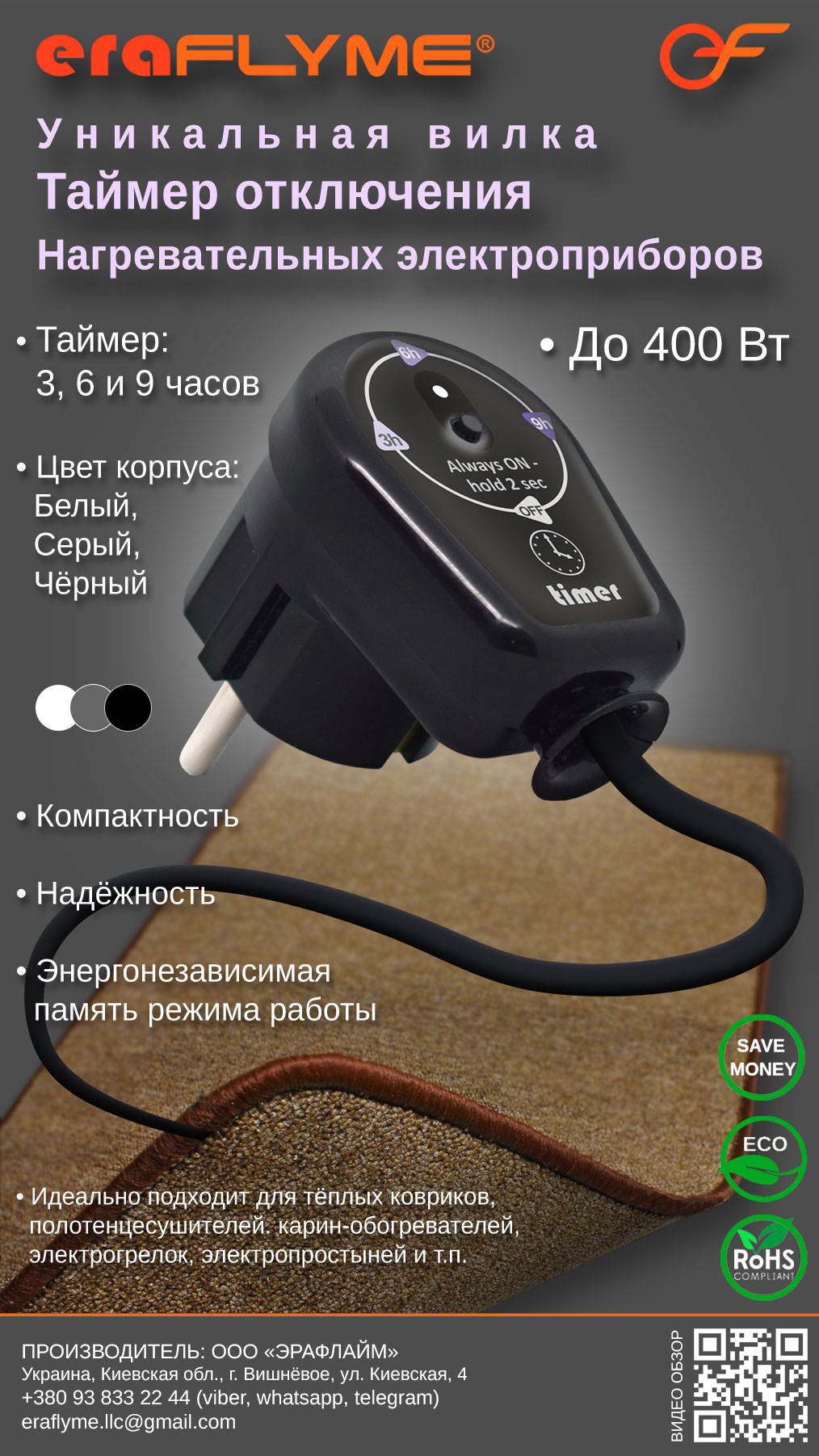 Specification
| | |
| --- | --- |
| Brand: | ERAFLYME |
| Vendor code: | EF16hbl |
| Product Code: | EF16hbl |
| Availability: | In Stock |
| Color | black |
| Size | 60х40х40 mm |
| Weight | 39 g |
| Power | up to 400 W |
| High-voltage | 230 V |
| Frequency of current | 50 Hz |
| Guarantee | 3 years |