Ceramic heating panels
Ceramic heaters and their structure
Ceramic heating panels are becoming more and more popular each year. ERAFLYME ceramic heaters combines efficiency reliability, economy and modern design.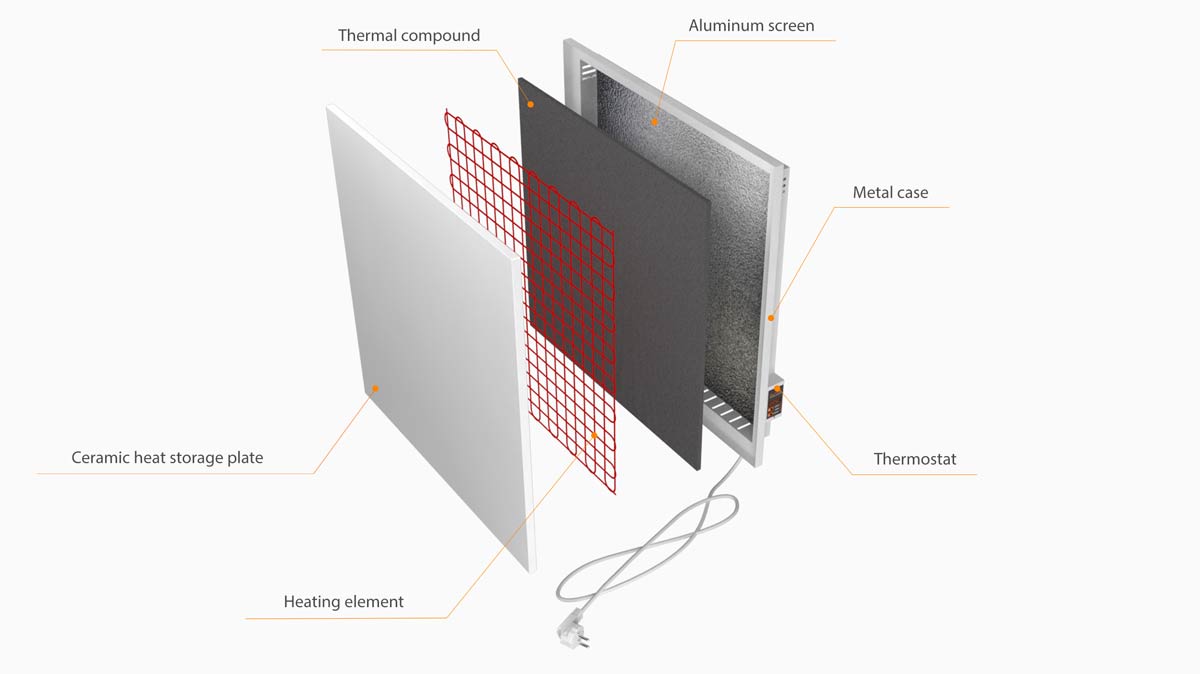 FLYME infrared ceramic heaters consist of a metal case with a convection chamber, a thermal compound (electrical insulating material), a heating element, a ceramic plate, which is a heat storage and emitter, and a programmable thermostat. An aluminum heat shield is installed inside, thanks to which the back side of the case does not overheat and energy is not wasted on heating the wall on which the panel is fixed.
These constructive solutions provide high efficiency of space heating with maximum energy savings.
The principle of operation of ERAFLYME Ceramic Heaters
Ceramic heaters operate on the principle of heating from a stone oven. The Eraflame infrared ceramic panel is your home "stone oven", which makes you want to bask in its soft warmth. During operation, the heater is silent and absolutely odorless.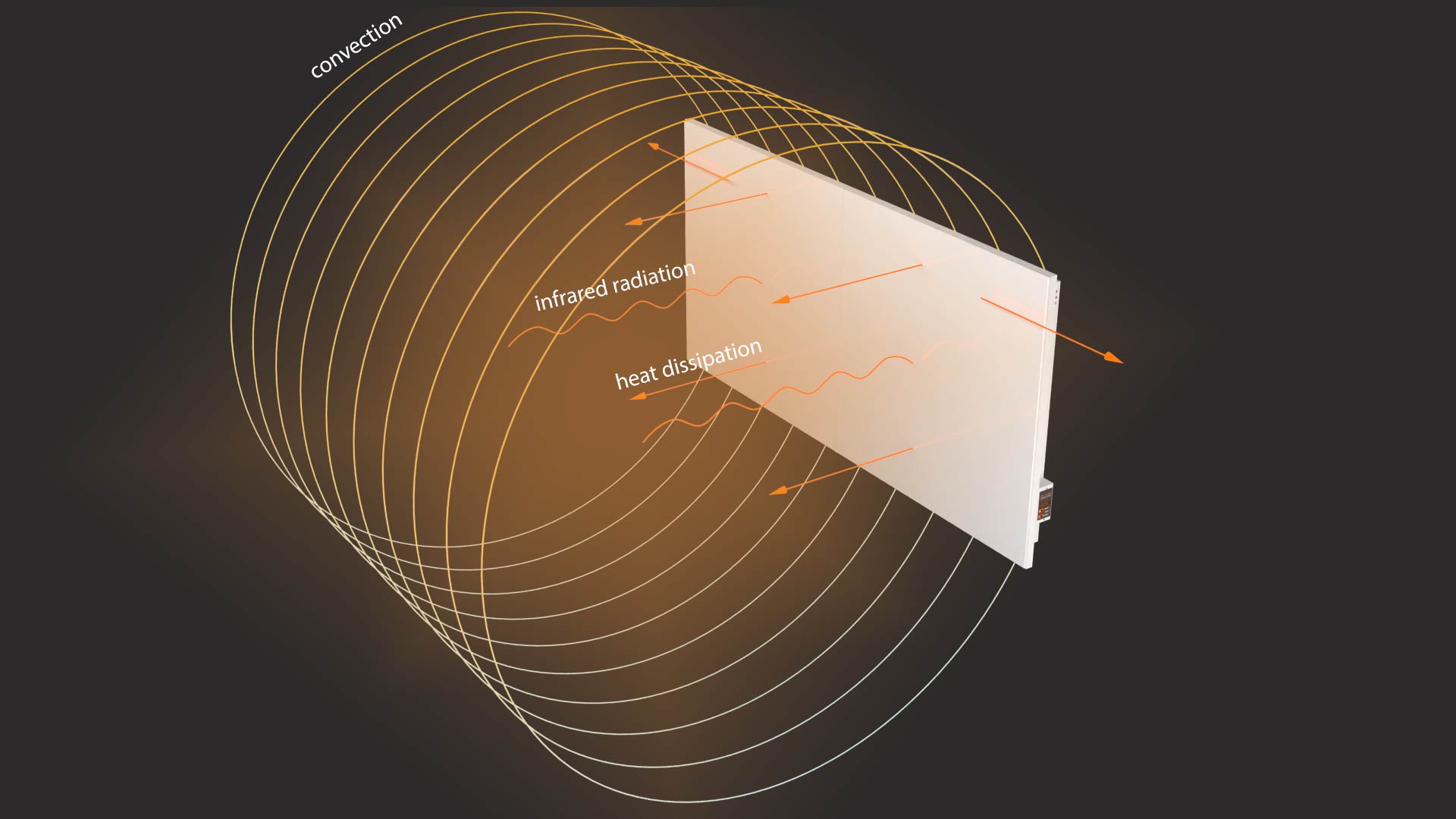 Ceramic electric heaters combine both types of heating:
Infrared - IR waves heat nearby objects, walls and scin, so that heat is felt immediately, and the air becomes warm over time due to heat exchange with objects. Thanks to this heat transfer, the ceramic panel is suitable for installation not only in residential and office premises, but also in industrial ones.
Convection - heats the air passing through the heat exchange chamber of the heater due to natural air circulation.
ERAFLYME ceramic heaters with thermostat are economical, efficient and reliable:
No expensive installation (I bought it myself, installed it myself).
No excessive consumption of electricity (due to the built-in thermostat with a programmer, electricity costs are minimal).
No maintenance.
No fluid leaks (no pipes, expensive connections or fluids).
Stylish design and modern components
The heating system based on ceramic electric panels will be several times cheaper compared to the classic.
Reliable and safe (blocking buttons from children, warning if there's no ground in the socket, etc.)
No emit of combustion products, no affect the the air composition and no burn the dust.
Ceramic panels are suitable for installation in residential and industrial premises, offices, shops, etc.
5-year warranty.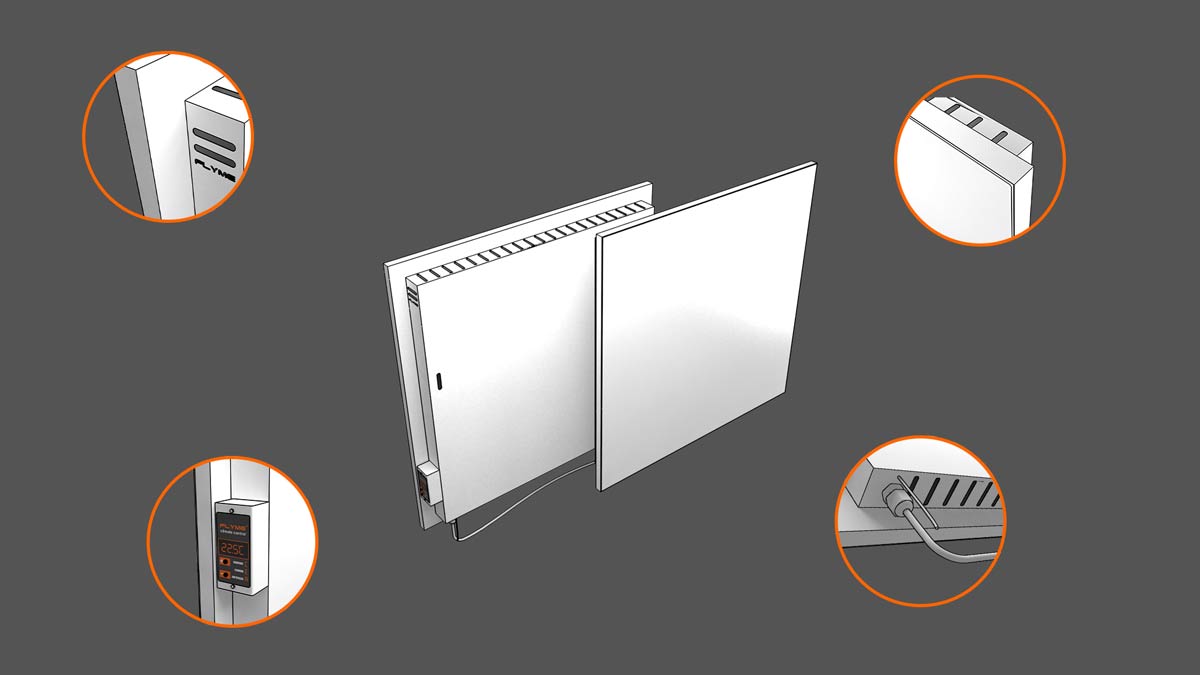 Delivery of ceramic heaters is carried out by Nova Poshta and other logistics services to anywhere in Ukraine: Kiev, Kharkov, Odessa, Dnipro, Zaporozhye, Lviv, Krivoy Rog, Ivano-Frankivsk, Vinnitsa, Kherson, Poltava, Chernihiv, Cherkasy, Zhytomyr, Sumy, Khmelnitsky, Chernivtsi, Rivne, Kamenskoye. You can also buy ceramic heaters in our goroom or showrooms of our dealers.